Dear Liam, Miley, and Nicholas,
I admit I had my doubts. Who didn't?
The Last Song
stars Miley Cyrus,
and its movie poster looks exactly like the movie posters for The Notebook and Dear John.
But I was wrong. Thank you for making my Friday night awesome.
Liam, no one can go wrong with you. Your golden-boy face and super hot bod made this movie shine. Plus, you had cute chemistry with Miley, especially in the scene where you told her she had a great voice. (I've never laughed so hard.) I didn't quite buy that you fell in love with Miley at first sight, but you still managed to win me over. You are a darling.
Miley, your hair is amazing. I'm officially jealous. And honestly, even though your acting skills are lacking sometimes, and you have about two different expressions throughout the movie, AND you played the moodiest teenager ever, I was impressed. You and Liam had sparks, and your relationship with your father was definitely a tear-jerker. Also, thank you for only singing once.
Nicholas, you did it again. That tragedy twist, right when things were going so well, had the whole theater, myself included, sniffing and sobbing until the credits rolled. How could you be so cruel? I did guess the twist, right down to the moment when it was going to smack us in the face, but it still made me cry.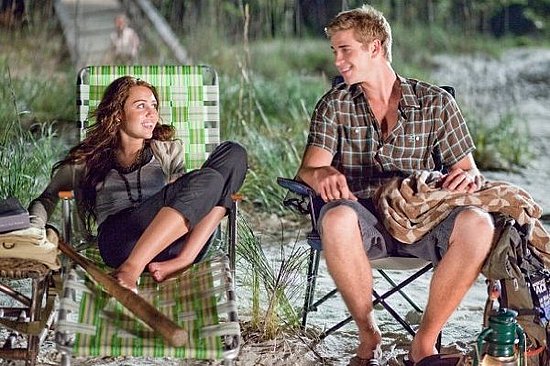 All in all, this was one of the cheesiest movies I've ever seen. There were too many subplots and the story as a whole was underdeveloped. But I cried like a baby and loved it dearly. Who wouldn't love movie that has cute boys, romance, tears and THE BEACH all tossed into one summery fling?
Two thumbs up.
Your #1 FAN,
Kirsten