My list of things to do over Christmas break looks like this:
christmas break must-read list
for all of you!
First up,
Looking for Alaska
by John Green, which I actually bought and read in Belfast -- I just had to buy a book at the Queen's University bookstore and John Green called my name. But if you haven't read it yet, it needs to be on your Christmas break list. It's hilarious, touching, and so so real: Pudge's journey to find his Great Perhaps at boarding school in Alabama is beautiful and always surprising. Basically, I didn't want to leave my hotel room to explore Belfast because John Green WINS the prize for best writing ever.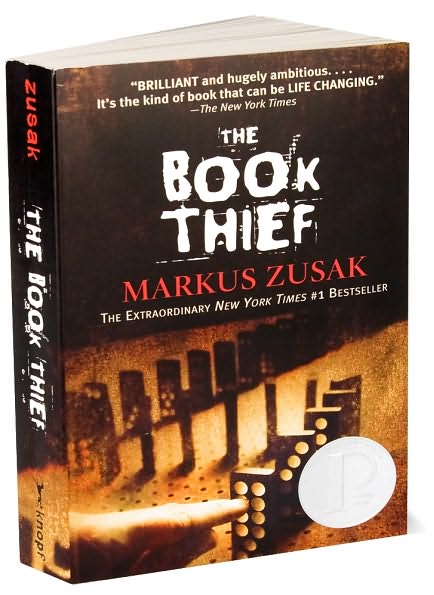 Second on the list, a much different book:
The Book Thief
by Markus Zusak. Think...the craziest images smashed together in startling prose, a story about a young girl who loves books but lives in Nazi Germany -- all narrated by Death. Not a cynical, creepy Death -- but a gentle and tired Death who's scared of the violence of WWII and looking for a reason to hope for humanity. I cried. Many times.
Third, back to the present day,
Saving Francesca
by Melissa Marchetta. One morning, Francesca's mother doesn't get out of bed. Francesca, kind of a nobody at a mostly boys school in Australia, has to learn to cope without her energetic mother -- and discover who she is. It's joyful, it's real, it's funny, it's also one of the best books I've read in a long time. I'm going to reread it before I bring it back to the library. It's a
life
book, you know, one that makes you want to fly to Australia and be bffs with Francesca.
And fourth,
Amy and Roger's Epic Detour
by Morgan Matson. This road trip story is pieced together by narrative, pictures, playlists, doodles, gas receipts, hotel bills, maps, and a sweet romance between two people who need the open road -- and many crazy detours -- to heal. Read it. Now.
Still in my stack:
Thirteen Reasons Why
,
The Dark Divine, Cracked Up To Be,
and
Jellicoe Road
. Also
My Name is Asher Lev
(a reread) and some Steinbeck to prepare for my seminar class next semester! So much reading. Life is good.